A True Ancient Craft
Moknine is a Tunisian Sahel city surrounded by clay hills. It inherited the traditional pottery that has evolved in this region till now from the Phoenicians.
Craftsmanship is still valued in Moknine, and it competes on an international level. According to certain experts, the pottery that was born before the Christian Era, with the Punic and Roman ages, because certain furnaces unearthed in the vicinity date from these times.
Moknine, Tunisia's true pottery center, has been fostering this know-how for many centuries.
Ensemble of Moknine pottery with traditional amphorae 
Pots, Vases and other Vessels
The garden pot, the signature product of Moknine artisans, is available in a plethora of classic and contemporary designs that can be shipped worldwide.
Besides planter pots, all types of vases and vessels are produced as well. These smaller decorative objects are accessible and loved by many.
All types of clay are distinct. Its color, texture, and rendering are unique. Moknine's clay is a material that has a rich history and journey and doesn't leave anyone untouched. The Tabarka clay, whose color is as soft as it is searing, allows us to have a natural and nuanced dimension.

Local artisan handcrafts market. Credit: Municipality of Moknine
Pottery As A Social Catalyst
Given the city's location and the nature of the raw material utilized, Moknine pottery bears the hallmark of distinction and quality. Not to mention the social and civilizational functions that pottery has played in society.
In recent years there have been important programs put in place to strengthen the value chains of crafts and design in Tunisia, the platform of Qartaj being one of them. We aim to support the crafts and design sector, in order to ensure a rise in product range and access to national and international markets. Qartaj forms a bridge between the international market and national artisans.
The pottery artisans of Moknine are a huge asset and a great partner of Qartaj. The group we're working with consists of multiple workshops. More often than not, they are small family businesses that have been active in the craft for more than 100 years. They aim to bring their beautifully crafted pots and vessels to the international market.
Tunisia's pottery culture has been passed down through generations and has its roots in the "Aoula" tradition of stockpiling food in big stoneware containers. This tradition goes back to the habits of the most ancient people that once inhabited the North African country.
Clay pots were used in the household for years before the advent of any other material on the market and have a particular place in people's hearts.

Inside a traditional kiln oven. Credit: Tarek Marzougui
From underground workshop to our homes
This pottery is created on a potter's wheel using clay found naturally in the earth. It is kept in underground vaults where potters would set up their workshops. They transform a chunk of clay into gorgeous planters, cups, and ornamental objects with incredible dexterity. After drying, the work is burnt in a conventional kiln. The sculptures are frequently kept in their original terracotta form before being painted with vivid motifs.
The style of Moknine pottery is very diverse and can be implemented both outside and inside because of the durability of the material. The pottery that is produced today is actually not very far in style from the kind of pottery made hundreds of years ago. This is because the design, shapes and dimensions have proven to be timeless additions to the home.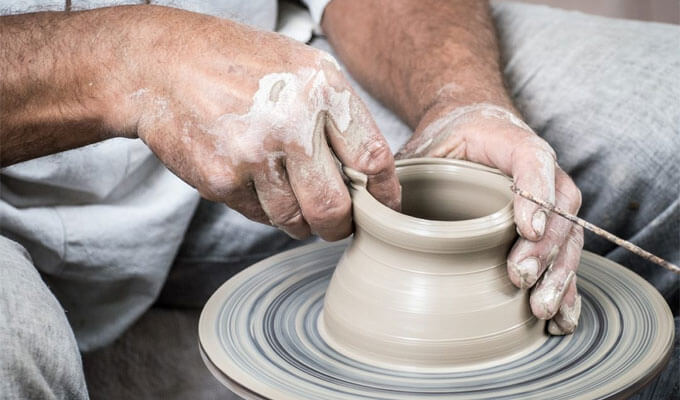 Our Collection Of Moknine Pottery

Click the photo to go to product page.
Add SKU code in your e-mail to us to order with ease.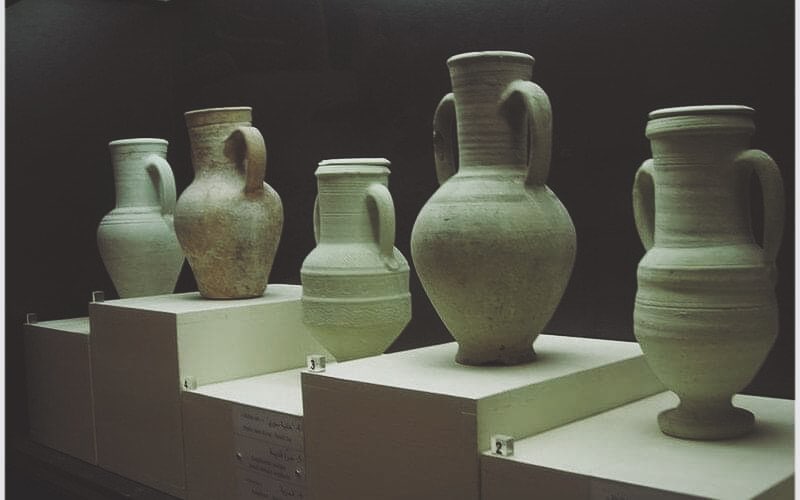 vessels on display at Moknine Museum in Monastir