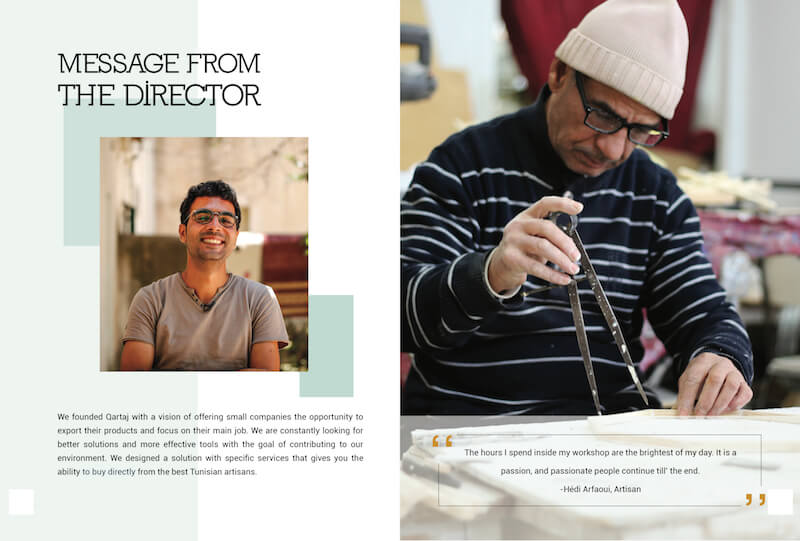 Cathaginians were fabulous marins. Latin Pliny the historian wrote about them "Punics Invented the Commerce"
Tunisia is one of the most performing countries in the artisanal field. As Tunisians, we believe in the quality of our handcrafters' skills, and the worldwide competitiveness of our products. As our main aim is to attain social equity in all Tunisian regions, whether rural or urban, in Qartaj, we offer fair trade products that can impact all the targeted areas. We make sure to select the best handmade products and give them Private Labels in order to guarantee the continuity of this ancestral knowledge and to promote a decent life to rural producers.
Qartaj assists you in the creation of your products; starting from their conception to their packaging and shipping. We put, at your disposal, a panoply of models to choose from We are in continuous study of the market in order to develop and design new handmade products more adequate to your needs. Once your request is ready, and the quality control is made, we make sure to deliver your products in the best conditions thanks to our high quality infrastructure for shipping and packaging. You can also track your delivery with us in order to know all the details about the shipping process.
The story of Carthage has existed since its foundation in 814 B.C. Qartaj is, thus, the outcome of a historical context. The name of our company refers to the Carthaginian civilisation historically known for its commercial activities. As specialized and recognized artisans, Carthaginians had the recognition of Greeks, Romans, Egyptians, Spanish and other ancient civilisations.
Qartaj is a B2B enterprise specialized in the distant offers of artisanal products. We are a fair trade business dedicated to the promotion of creators, with an online gallery devoted to the exhibition of handmade products based on ancestral expertise. Our objective is to valorize our partners' creations in a friendly atmosphere and make businesses rediscover local and original small artisans and designers. Clients can easily collaborate with the best craftsmen in Tunisia, get information about their career, and ask them for a personalized product. They are also invited to actively participate in our marketplace by evaluating us, either through scoring or through commenting on the quality of our products and services after the reception of their orders.
We cultivate a sharp sense of innovation while preserving our traditional values. Qartaj has all the chances to surprise you in the future. We hope to help our collaborators create new solutions corresponding to our requirements.
Relying on the best. We have the solution!
Moncef BEN REJEB
CEO & Founder