Our Fairtrade Mission
Qartaj believes in fair trade and justice for workers in the artisanal field. As a matter of fact, Qartaj creates economic opportunities for marginalized artisans and their communities. The entreprise promotes the disadvantaged artisans in marginalized (rural) communities by expanding economic opportunities to sell their handmade products all over the world. Also, we pledge to protect the Tunisian ancestral handicrafts of national patrimony and help to introduce it to the world.
In addition, Qartaj's role is to enhance the social and economical situation of workers in the artisanal field by selling their products with the fair value that goes with their hard work and effort. Moreover, the company would like to assure a sustainable profit for the artisans to assure a proper living condition and a stable income for their families. Importantly, Qartaj is against the exploitative treatment towards workers, in particular female artisans in rural regions.
It is worthwhile to mention that, Qartaj's mission is to prevent the extinction of artisanal jobs and help to regenerate it through teaching it to younger generations. Indeed, Qartaj is devoted to improve the artisanal product by modernizing it and training the artisan to enhance his skills. In particular, this young entreprise is trying to unite artisans of different region and facilitate collaboration between them. In essence, Qartaj believes in the futuristic e-commerce that expands globally.
Our Services : handmade production
Qartaj is a professional social enterprise in the artisanal field. We seek to involve our customer in the business process. We do consider our client as our business partner. We do not reduce our clients as just as a mere profit. We believe in establishing a reciprocated professional relationship with our customers by involving them in the process of making handicrafts; for example by opting to design custom-made products. We aim to found business relationships with our clients that are solid and consistent lasting for many years.
The advantage of Qartaj is to facilitate communication and mediate between the clients and the artisans, making sure to advocate the interest of our clients and provide best services within short time. We make sure that our unique relationship with our business partners is mutually exclusive.
- We will keep in constant contact with our business partner from the early process of order application until the delivery and shipping. In case of a delay, we will assure the continuous communication about every single detail of their order process
- We provide to our customers labelled and certified products like EUR1 for Europe, Formule A for USA.

Qartaj follows and endorses the free trade agreement EUR1 for EuroMed countries.
- Qartaj makes sure that the handicrafts are free of lead and cadmium or any toxic substance.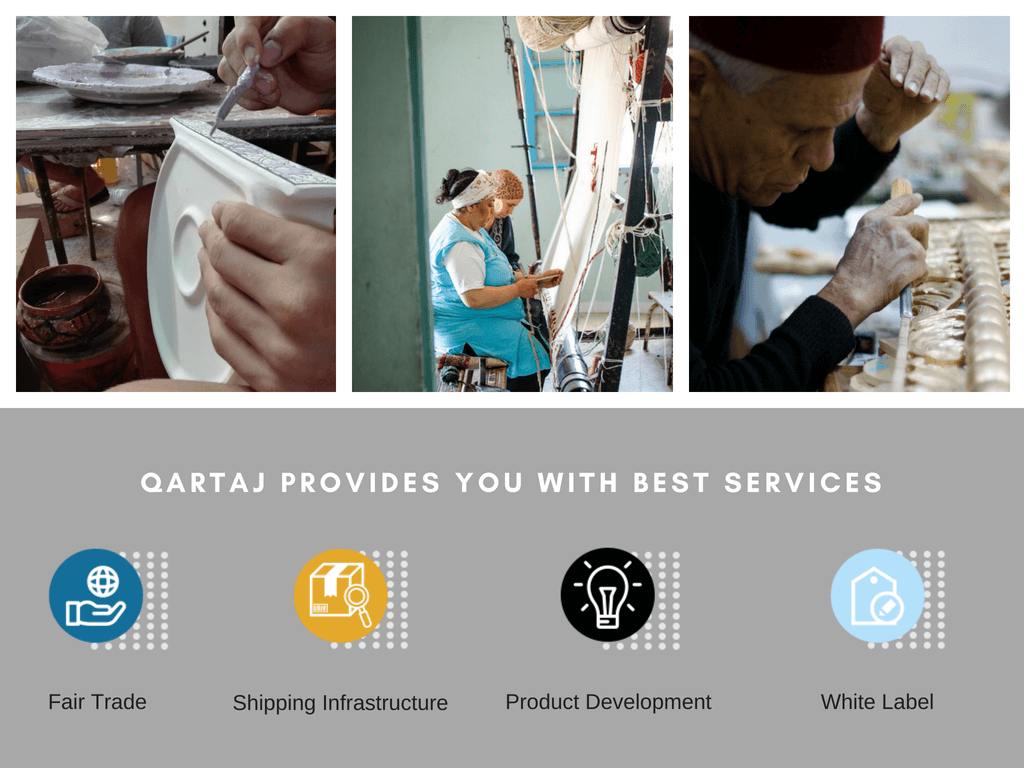 Custom Products
Handcrafted, woven, or knotted according to ancestral or resolutely modern techniques, in natural fibers or synthetic fibers, the rug is an original way to refine a home by bringing warmth, color, and character. Rugs have certainly gained in popularity during the latest years and can now be found from hallways to living rooms to kitchens and even patios.
At Qartaj we offer the unique feature of designing your own rug to entirely match your customers desires and taste. We know sourcing the right international products can be overwhelming so we kept the process as simple as possible.
This is the info you'll need to make the right choices.
Common Tunisian rug styles
Margoum
Margoums are often made in the interior and south of Tunisia. The margoum rug is a mixture of the classic knotted rug and a woven kilim. It is thinner than a knotted rug but thicker than a kilim. The weft of a margoum is always wool and its warp cotton, which gives it a stiff and solid appearance. It is heavier and thicker than a kilim. The weaving method for a margoum is one of the oldest traditions in Tunisia. The bottom of the margoum is woven like a kilim and the pattern of the rug is embroidered with knots on top. This method makes the margoum hairless with a smooth and raised look.
One of the best parts of margoum rugs is that they are durable and can often be kept for life. They are known for their strength and resistance which makes them suitable for high traffic areas in a home.
Berber
A "berber" rug has two different meanings in Tunisia. First, it can imply the rug features Berber motifs such as fish, hands, candlesticks, animals, crosses and various ancestral symbols. These rugs are made by the Berber or Amazigh population in Southern Tunisia. They carry a great symbolic value and history.
The second meaning of a Berber rug in Tunisia is connected to the method of weaving and knotting. Berber rugs are made out of sheep's wool, animals traditionally kept by the Amazigh people, and feature a long pile which is exceptionally soft and fluffy. The high pile rug can have a height going up to 7 cm (2.76 inches). The people of Tunisia use these rugs to warm up a space in winter and to create comfort while sitting or lying down on the floor.
Berber rugs can feature various colors which are authentically created with herbal dyes such as turmeric for yellow, henna for orange and pomegranate for red or pink.
Kilim
The best known rug from the region which includes North Africa, Turkey, the Balkans, Caucasus, Middle East and Central Asia. Kilims differ from margoum and high pile Berber rugs because they are flatweave. Kilim designs are made by interweaving the variously colored wefts and warps. Kilims are generally woven with the slitweave technique. The slit refers to the gap left between two blocks of color. It is created by returning the weft around the last warp in a color area, and the weft of the adjacent color is later returned around the adjacent warp.
Weavers pack the weft tightly to completely cover the warp. Diagonal patterns are favored to avoid weakening the structure of the rug with vertical slits. Kilims often have bold, sharp patterns with geometrical designs.
Because of the tight weft, kilims are, as margoums, known to be durable and easy to maintain. Kilims can feature various colors which are authentically created with herbal dyes such as turmeric for yellow, henna for orange and pomegranate for red or pink.
Authenticity
The authenticity and quality of the rugs is certified by the Tunisian National Crafts Office,
which issues a certificate on the back of each rug indicating the following:
- Measurement

- Diameter

- Surface

- Used materials

- Weight

- Texture

- Control stamp number

- Year of production

- Region of production

- Unique rug number
It also features information of whether it is a first or second choice rug.
All of the rugs sold by Qartaj are first choice and of the highest possible quality.
How to create a custom rug?
Did you see anything you like in our catalog?
Something that's been inspiring you?
Something your customers are specifically looking for?
Seven steps to your unique custom rug
1- select your favorite rug from our catalogue or from your personal selections

2- send us a brief about your customised rug request, if you have photos, please join them to your request so we can understand what exactly you are looking for

[email protected]

3- we'll get back to you with different possibilities

4- we'll schedule a meeting to discuss the details of your request

5- we'll contact the artisans to create your design on a 30cm*30cm sample rug

6- we'll send you the sample rug which you can accept or continue to adapt

7- when in agreement, production will start on preferred dimension
Et voilà, through open communication and a clear process it'll be easier than you think to source exactly the right rug for your business.