In 2022 we'll see interior design taking it up a notch and bringing back real and functional design made for people that love and care for their space.
The past years it has been brewing but 2022 will definitely be the year craftsmanship makes a comeback, even though it has never really been gone. We honor air and free space, letting exactly those right furniture and decor pieces take up the space they deserve. Maximalism has had its moment and people are going back to minimalism, but in an updated, more interesting way.
It has been long overdue but sustainability is taking over the design world as well. Trends seem to highlight the importance of natural, sustainable, renewable materials such as wood, glass and wool. Handcrafted unique items, one of a kind decor pieces and vintage influences make the home a truly personal space. We also see a surgence of a different approach, a philosophy towards design with the coveted Wabi Sabi influence.
We will dive a bit deeper into the 5 trends our design expert is predicting for 2022. We included some inspirational interior design and our experts' top picks to add to your catalogue. We are sure your clients will love them very soon.
1. 70s decor is back to bring us joy
We see a huge surge of 70s inspired decor coming up. Accents of a bygone era will be added to the home, without falling into kitsch. With bold colors, patterns and bohemian but also futuristic elements, the 70s style is certainly interesting. Translate it to 2022 with the use of warm colors, burnt oranges and brows, moss greens and visually attractive patterns. We think the perfect way to do this is with the use of a rug or textile with a vintage pattern that can transform an entire room.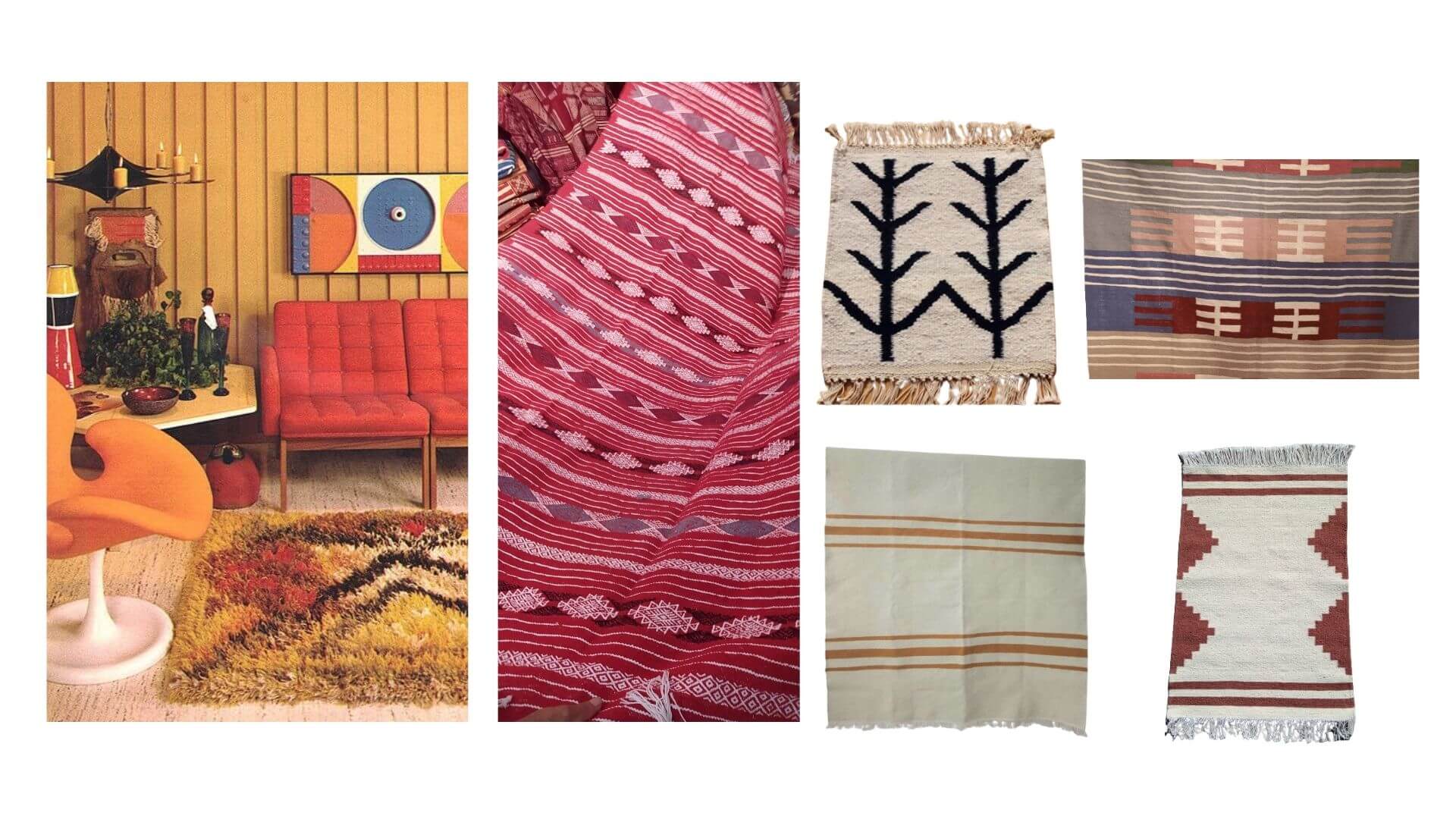 Our experts top picks:
Large Brown and Yellow Geometric Kilim
Multicolored Bone Line Pattern Rug
2. Sustainable materials
I would rather not call this a trend, looking at the state of the planet right now sustainable choices are a necessity. We are glad to see interior design is picking up the pace and putting forward designs and objects that are more timeless than ever. The designs and trends are clearly here to stay beautiful for a longer time than usual trends would. Utterly trendy items you might want to hide away after a year or so are not the right choice anymore. Opting for timeless design is an aesthetic but also ecological and sustainable choice. The best way to become timeless is using sustainable and renewable sources for products. Think recycled olive wood, glass and wool. These materials last a lifetime and have proven through human history to stay current, loved and true investment pieces. Give your customers the joy of surrounding themselves with natural materials. Plastic is seen less in homes and people want to replace them with sustainable materials which will last. If you would only update your catalog with one piece, let it be of timeless design, made of a sustainable material.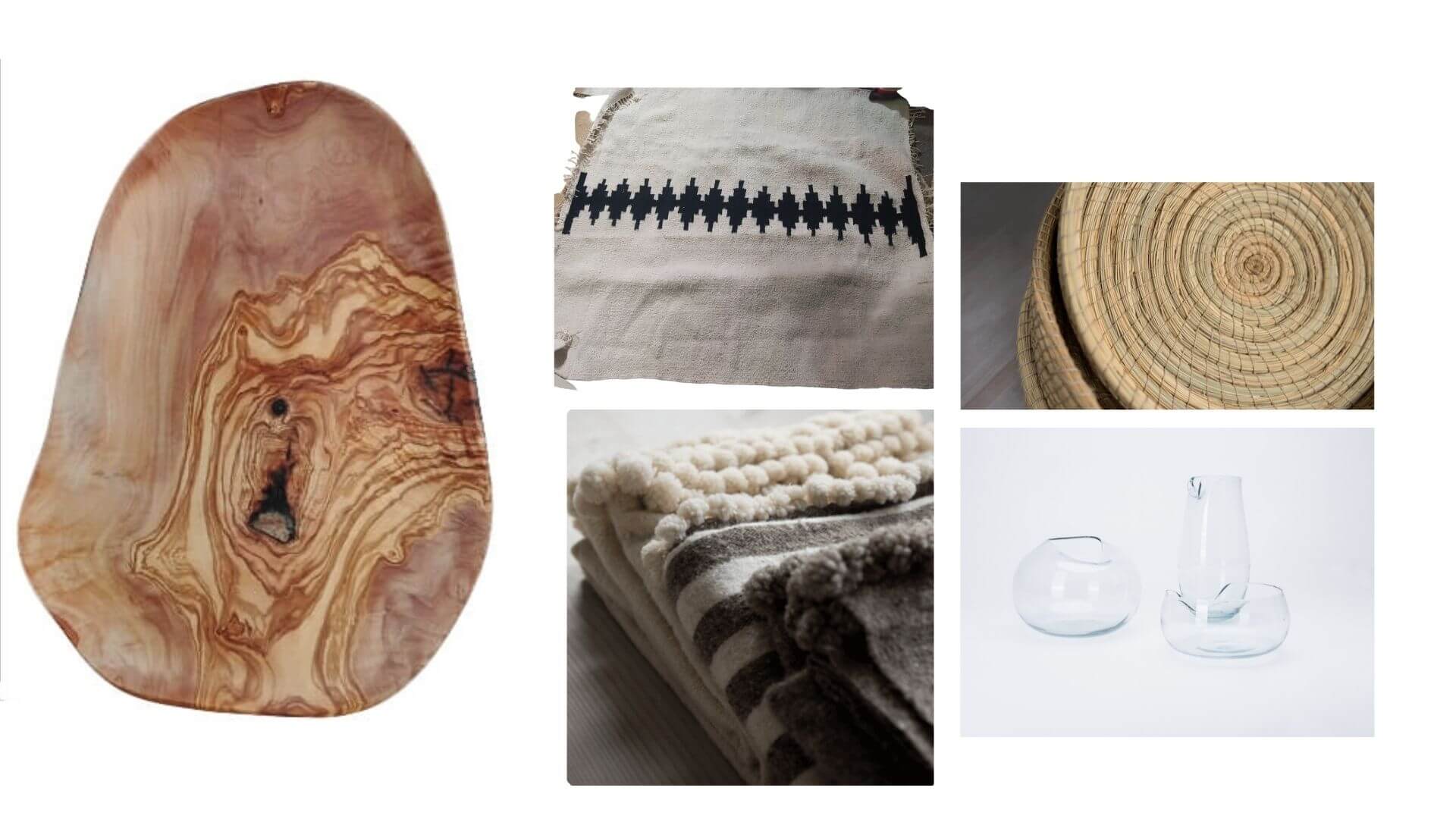 Our experts top picks:
Irregular Rustic Olive Wood Board
Undyed White Rug with Black Geometric Diamond Pattern
Set of 3 Halfa Grass Nested Storage Baskets
3. Zen and Wabi Sabi
In 2020 and 2021 many people had to spend many days inside their home. We think the zen interior trend might have come out of that, people want to feel embraced by their homes, being beneficial for the psyche and mood. When we couldn't go out, a record number of people brought nature inside with houseplants but also sustainable materials for decor. wabi sabi is a world view centered on the acceptance of transience and imperfection. The beauty of wabi-sabi is imperfect, impermanent and incomplete in nature. It elevates the ingenious and environmentally-friendly design. It can also encourage and reflect a clear, conscious and undistracted mind. Zen-living based on wabi-sabi will result in clean lines, organic and natural decor and a less-is-more approach. Every piece in a home deserves its space and does not compete with others.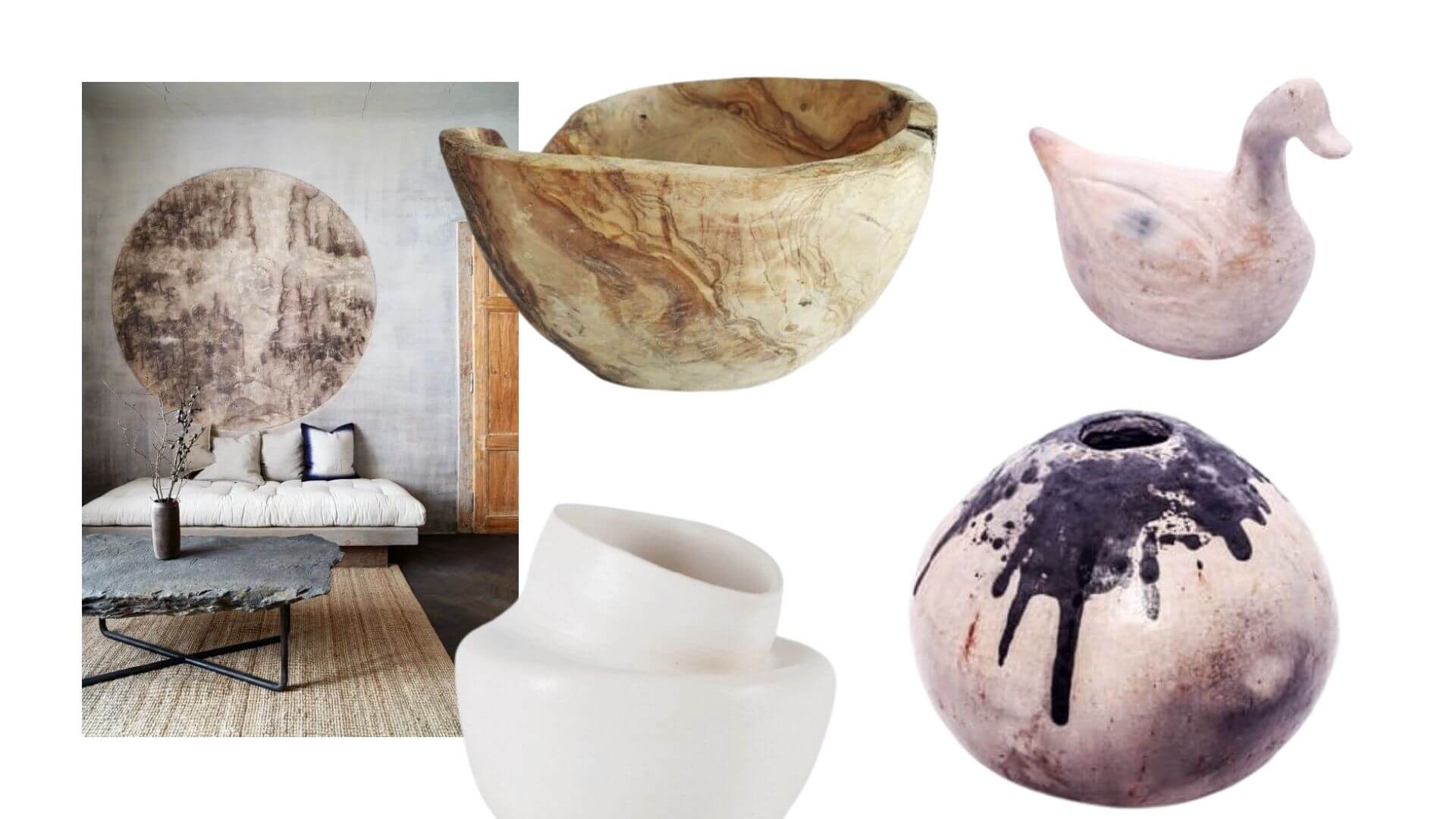 Our experts top picks:
Set of 3 Handmade Olive Wood Plates
Handcrafted Sejnane Bird Statue
4. one of a kind
A trend we're very glad to announce. We've spoken about the return of the 70s, but it seems people have a larger longing for retro, antiques and overall unique pieces to add to their home. Flea markets, second hand shops and smaller business sourcing worldwide, often handcrafted pieces are steadily gaining in popularity. Mass produced items are often not in line with sustainability nor fulfill the need of one-of-a-kind personal objects people want to place in their home. We'd say, take advantage of this and with the right marketing, your carefully sourced international product line can become loved by many.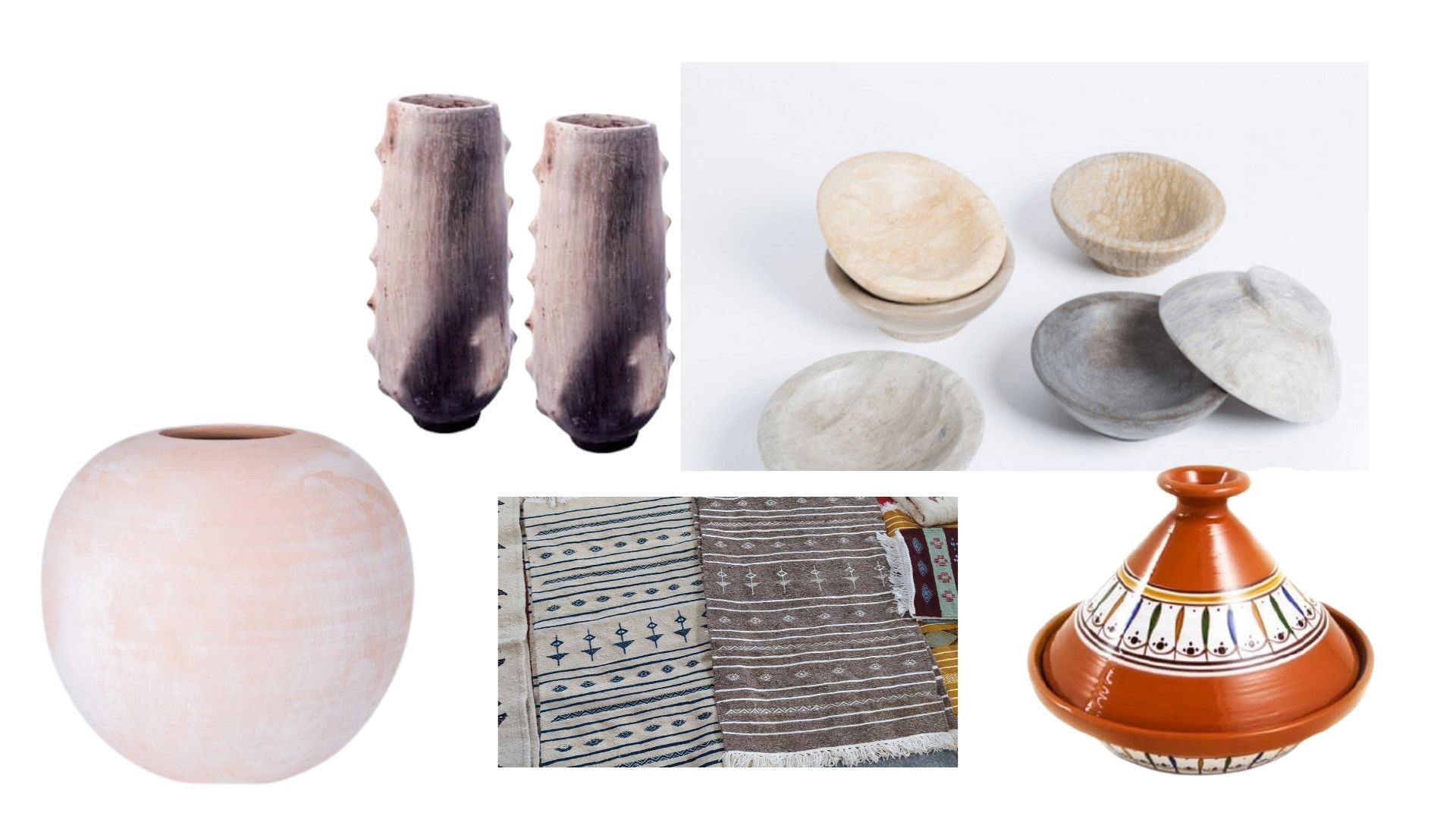 Our experts top picks:
Greige Amazigh Berber Pattern Rug
Terracotta Hand Painted Tajine
5. Arts and Crafts Movement Inspiration
The new trend has people looking to the iconic 19th century movement born of the Industrial Revolution. This movement started by craftspeople and artists was aimed at reforming the way things are made and eliminating the devastating effects of machine-made production by adding value to decorative handicrafts. The revival of arts and crafts is a trend that has been gaining momentum lately. People appreciate the handicraft and decorative styles embodied in this trend. We feel that this new movement is an offshoot of the immensely popular farmhouse style, bohemian style and even cottagecore.
The handmade trend can be seen everywhere, from furniture to kitchen utensils to tableware. We will see a lot of handcrafted products decorating the home, fulfilling the longing for the real, the human, the natural.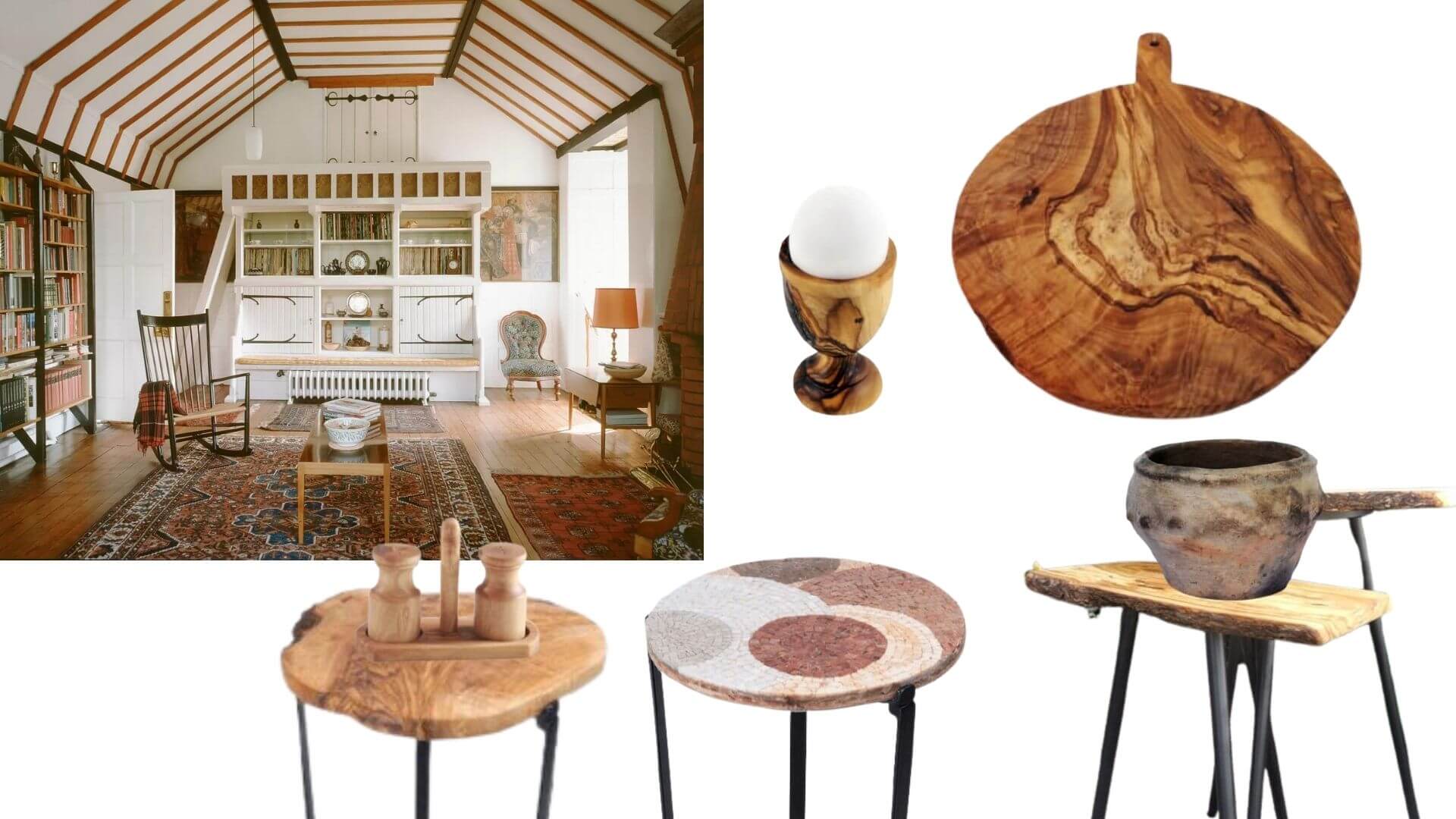 Our experts top picks:
Olive Wood Salt and Pepper Set
Metal and Olive Wood Table Round