In Tunisia, ceramic craftsmanship is a thousand-year-old activity. It is still very much alive today, mainly popular, different, and varied. It testifies to the ancient traditions in the country. The regional museums show us through their collections the richness and diversity of this heritage.
This ceramic craft is widespread throughout the territory, in urban and rural areas, wherever clay exists, and more particularly in Aïn Drahem, Berrama, Guellala, Menzel Fersi, Moknine, Nabeul, Nafta, Sejnène, Testour, and Tozeur. These villages and towns represent the poles of production where clay is worked by skilled craftsmen at home or in full-time or discontinuous workshops.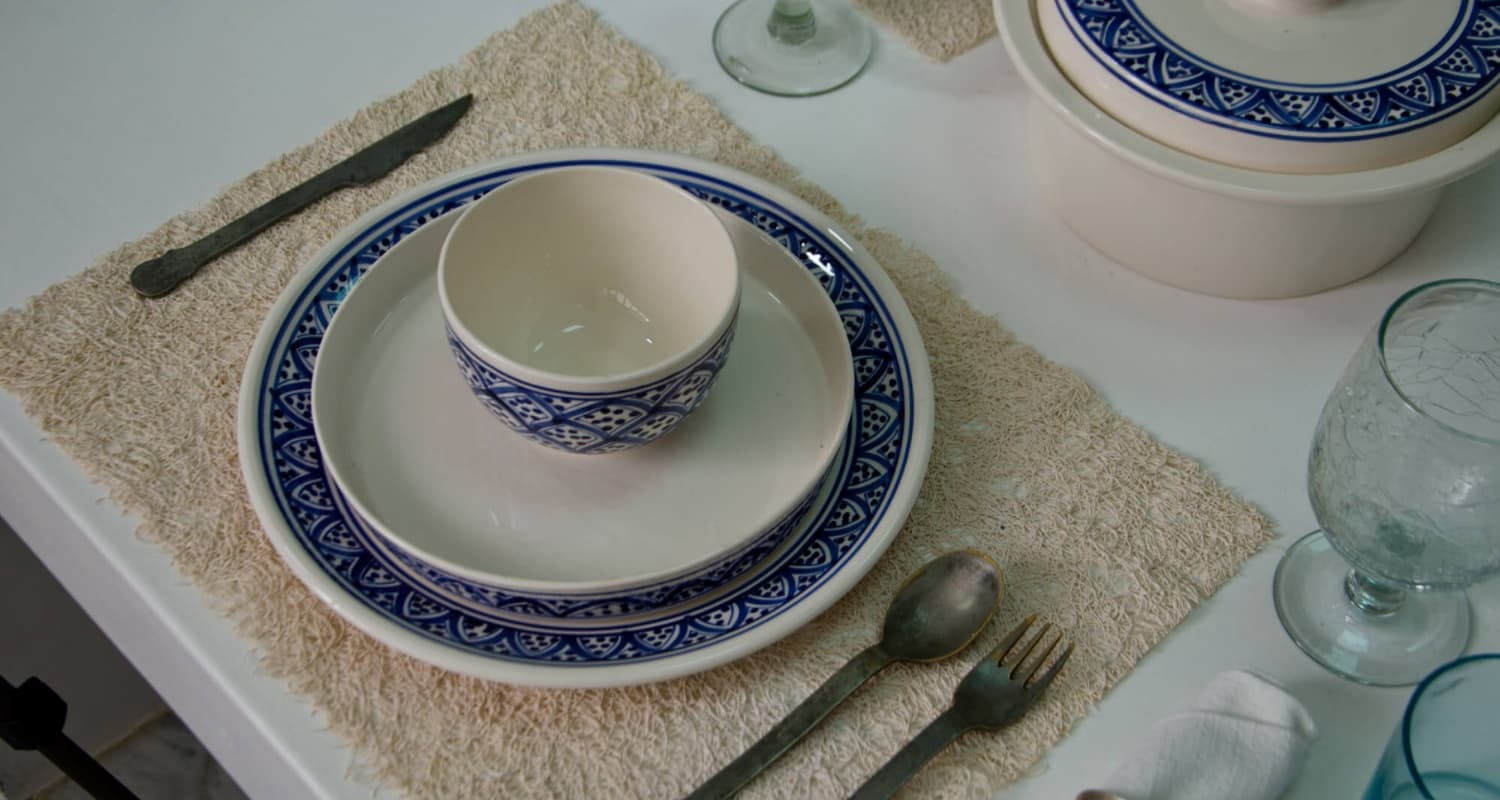 In addition to that, in rural areas, ceramic craftsmanship is a family activity, traditional and seasonal, practiced outdoors by Bedouin women. Rural pottery is very undiversified, often far from the market. In urban areas, ceramics are generally the business of men working in workshops of different sizes. The product is diversified, the production is important, the markets are diversified.
Until around the middle of the 20th century, each region lived in a certain isolation, which gave rise to several local varieties of ceramics and manufacturing techniques, and formed independent schools:
Nabeul, an important center renowned for its terracotta pottery, and its crockery, tiles and earthenware tiles.
Moknine and Guellala are two cities famous for their raw or glazed terracotta pottery in the shape of large jars and basins
Testour, a town known for its typically Andalusian tiles and raw slabs.
Tozeur and Nefta, two towns renowned for their solid bricks designed to satisfy the need for local architecture.
The villages of Sejnène, Berrama, Menzel Fersi and Zouakra have continued to perpetuate their famous kanouns, tagines, broms, hallebs, tabounas, etc. of tender pottery.
Aïn Drahem, the forest town has shone with its new manufacture of souvenir items in white earthenware whose shapes and decoration recall the forest in the northwest of the country.
It thus appears that the Tunisian ceramic craftsmanship is very diverse in its organization and its dynamics. It includes 4 categories of manufacture: soft pottery, hard terracotta pottery, glazed pottery and earthenware.
A Mecca for Tunisian ceramics, the city of Nabeul has always been closely linked to clay.
What distinguishes Nabeulian ceramics from others is that the latter is the result of a historical mix between Phoenician, Punic, Roman, Berber, Andalusian and Djerbian influences.
Thanks to a nearby good-quality clay quarry, the Nabeulians have been potters since the dawn of time. They traditionally make jars, bowls, vases, and pots in yellow and green glazed terracotta, enhanced with dark brown patterns. Since the beginning of the 20th century, the potters of Nabeul have specialized in polychrome earthenware tiles, using the decorations of ancient palaces and monuments in Tunisia. They now offer a whole range of products, from Ottoman-style ceramic panels and designer tableware to shiny white vases decorated in vibrant colors and surrounding a tree, adorning the city center. It's impossible to ignore that ceramics are the city's great specialty.
In Cap-Bon, the Nabeul clays are characterized by a certain diversification in the facies linked to deposits of different ages. Indeed, in the region of Nabeul, were identified essentially the clays of the lower Oligocene of green, gray, and brown tint in very thick patches and the clays of marine Pliocene age yellow-greenish, more or less carbonate very fine which are the main source of raw materials used in local pottery. Miocene (Messinian) clays are also found which outcrop north of the town of Nabeul.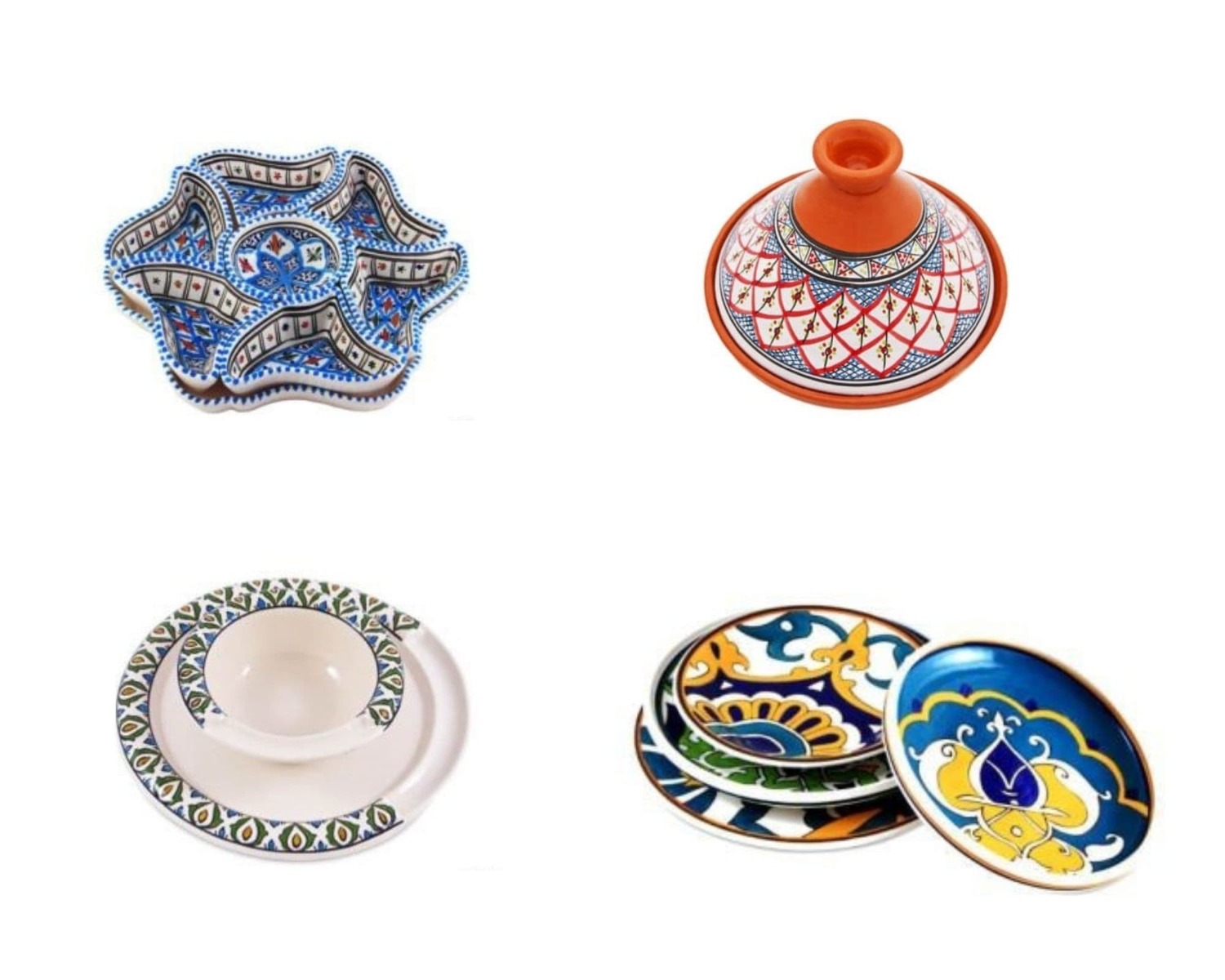 Besides, the aspect of sustainable development in phase with the concerns of safeguarding the environment has not been omitted, as was specified in the case in particular of the production areas in the regions of Nabeul and Moknine, where ceramics has a good chance of continuing to develop. Rural pottery, such as in Sajenène and Barrama, is a highly coveted target in actions for the development of ceramics activities and constitutes a very important component because of the potential it contains.